Tada ride booking fares and cancellation fees guidance


1. Reservation Fares
Fare is determined based on the distance between the specified pickup and destination using the in-app meter in the vehicle. This fare reflects a surge pricing system that factors in supply and demand, such as peak hours

Paying is after a ride completed
Booking fees are free for a limited time.
[Ride Booking]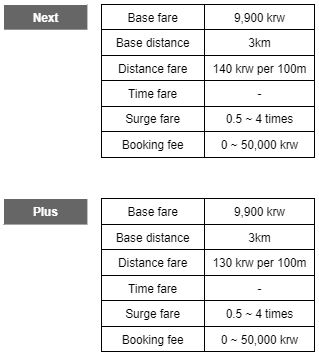 Help) Ride Booking fares detail
2. Cancellation Fees
Fees apply to both Ride Booking and Charter Booking.
If a confirmed and assigned reservation product is cancelled due to customer change of mind or missed boarding, cancellation fees may vary although time. Cancellation fees are calculated based on the confirmed fare without any coupon applied.